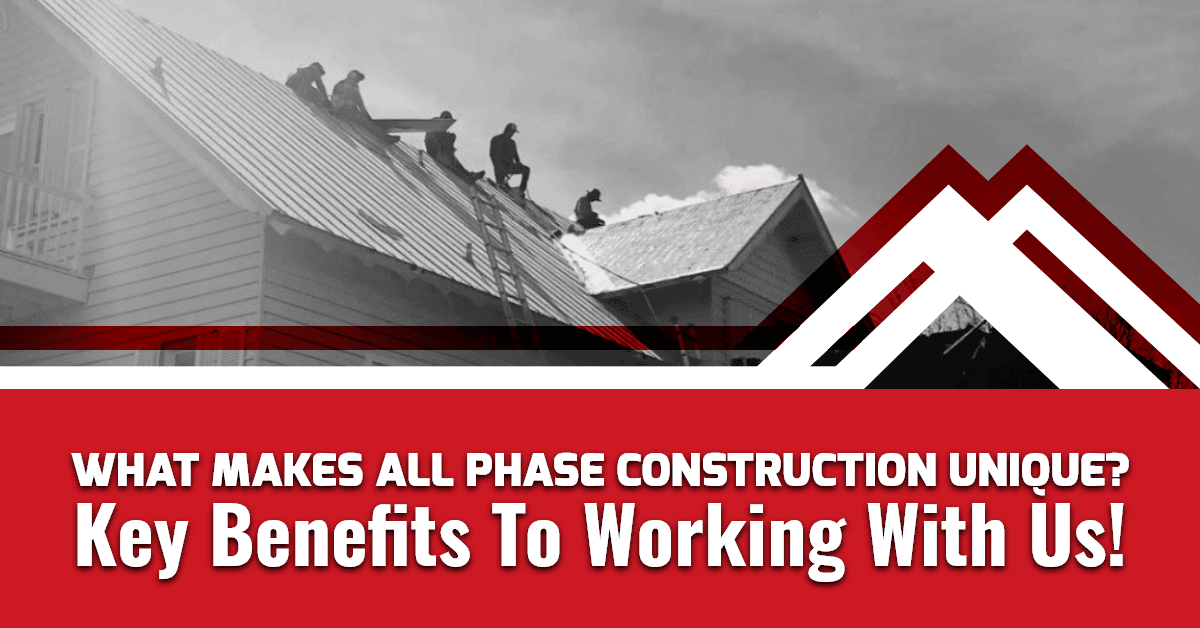 What Makes All Phase Construction Unique? Key Benefits To Working With Us!

Your roof is one of the most important parts of your home. It keeps your attic dry, your family safe, and your walls secure. As such, you want to be careful who you allow to work on your roof. In this industry, there's really no room for error or poor service. At least, that's what we believe at All Phase Construction. We're not just another Florida roofing company. As we've grown, we've made a dedicated effort to set ourselves apart and offer better services for our customers.

So, why would you want to work with All Phase Construction? What makes us so unique? Take a look.
Skilled, Certified Crews
Since we opened in 2005, we've focused on hiring skilled, experienced crew members. Our roofers hold a wide range of certifications relevant to the Florida climate. For example, one of our leaders is a Wind Safe Mitigator and a Certified Mold Remediator. When Florida roofs are damaged by hurricane and tropical storms, hiring someone with this level of expertise will ensure repairs are made correctly and in compliance with all building codes. Not only does this keep your home safe, but it also satisfies increasingly strict insurance requirements.
Our crew members have also worked with a wide range of materials and roofing manufacturers. We are certified with Fiberlite, Ygrene, Soprema, and GAF, just to name a few.
Decades of Experience
We're not new to this. In fact, we have more than 30 years' experience in the industry. We've been around as building codes have been changed and updated. This has given us an in-depth understanding of how to build strong, durable roofs. We've worked with thousands of homeowners and building owners, and we draw from those experiences when making repair and replacement recommendations to our customers. While we would never discourage you from getting a second opinion, we also know our advice to be reliable and accurate.
Certified Energy Raters
Energy-efficiency is becoming increasingly important, both for the good of the planet and your own wallet. As Certified Energy Raters, we keep efficiency in the forefront when repairing and replacing roof systems. We can help you select the most efficient materials for your new roof. We can also recommend changes to your insulation and ventilation systems that will reduce energy consumption long-term. 
Restoration Services
If your roof is worn out and showing signs of damage, it might need to be replaced. But don't jump to this conclusion without an inspection. Many roofs – especially commercial roofs – can be restored. At All Phase Construction, our commercial roof restoration system can save you thousands of dollars when compared to the cost of a roof replacement. We can even perform the restoration while your building is open and being used.
To make sure you receive the best possible service, we treat each roof restoration process as an individual. We evaluate your roof structure and needs. Then, we create a custom repair protocol just for you. Sometimes, there's a simple solution such as adding acrylic coating in a specific area. Other times, we need to add fabric reinforcement to the whole roof. In any case, we will thoroughly review our plan with you before we begin working and make sure you're comfortable with the steps we'll take.
Solar Installation Services
With rising energy costs, people are increasingly looking for greener, more affordable ways to produce energy at home. Solar is a top choice, especially in sunny Florida. Solar panels capture the sun's energy and convert it to electricity, which you can use in your home.
All Phase Construction is proud to offer solar installation services through our specialty division, All Phase Solar. We can provide you with a complete solar system including solar panels, an inverter, and racking to mount the solar panels to your roof. If you want to go off-grid, we can make that possible by installing a battery to store the excess energy your solar panels generate.
Solar power is renewable, and solar panels pay for themselves in the long run. They can also increase the value of your home. If you'd like to learn more, we're happy to share our knowledge.
Community Involvement
At All Phase Construction, we consider ourselves a part of the local community, and we believe in giving back to that community. We're proud to work with Habitat for Humanity to build homes for those in need. There's nothing better than putting a roof on a new home that has been built completely by volunteers. 
We might be a little different from other local roofing companies, but that's okay by us. At All Phase Construction, we put our customers and the quality of our work first. If you're looking for a roofer or you're interested in solar, contact All Phase in Deerfield, FL today.